I live in North Vancouver, and British Columbia is my home province. The province is generally very mountainous and forested, providing excellent topography for scenic, ripping, steep descents throughout. The most popular regions are along the southwestern coastal areas in North Vancouver, Squamish and Whistler. However, for those willing to venture further afield, there are great trails in Cumberland on Vancouver Island, the Okanagan Valley (including the cities of Kelowna and Penticton) and the smaller towns of Revelstoke, Rossland and Nelson in the West Kootenay mountain range.
The Okanagan Valley is reminiscent of the Mediterranean wine regions of Europe and offers visitors incredibly scenic vinyards, with wine tasting and great lakefront beaches to swim while you visit. Alternatively, the towns of Revelstoke, Nelson and Rossland, nestled within the West Kootenay mountain range, offer visitors incredible "Alps like" hiking and backpacking among revitalized formerly railway and mining towns. Below, I show you a map of southern British Columbia, where I circle some of my favourite riding regions.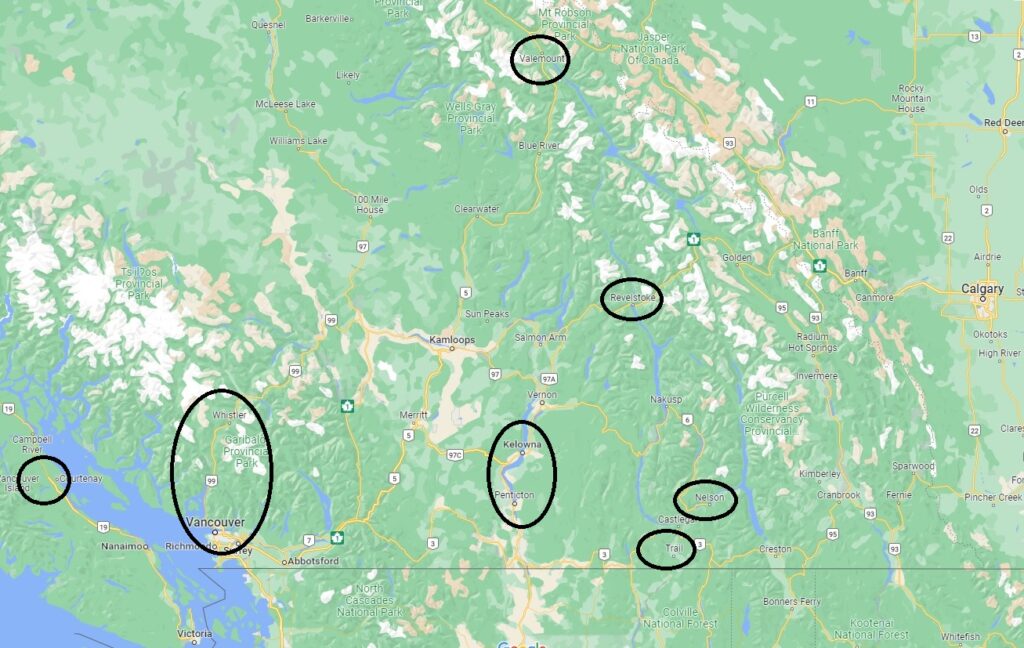 The best riding weather is typically obtained in the July through September timeframe since the higher elevation, mountain top rides are typically snow covered until mid-July. However, you can still ride at lower elevations nearly throughout the year in North Vancouver, Squamish and Vancouver Island – if you don't mind the rainier weather.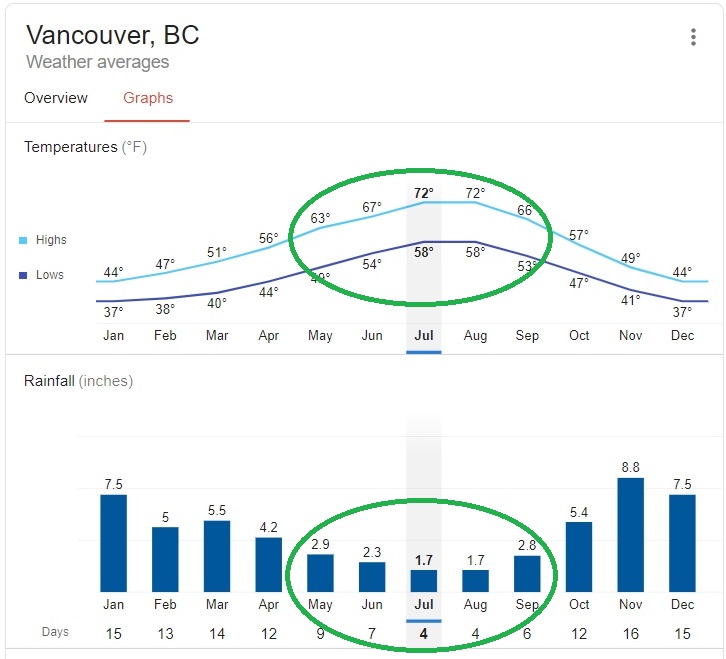 The best regions to ride for steep, technically challenging trails are North Vancouver and Whistler. North Vancouver has dozens of unique, man-made wooden features to challenge the most nervy riders. You will find the best flow trails in Squamish and Cumberland on Vancouver Island. If you are looking for outstanding mountain-top vistas, you can find them in Whistler, Revelstoke and Rossland. However, you will also find outstanding mountain biking, small town hospitality and excellent craft breweries throughout the province – towns such as Valemont and Nelson for example, you just need to be adventurous to head further afield. For those visitors to BC who might be more familiar with US ski towns, you will find the towns of Rossland and Nelson similar to those in: Truckee, South Lake Tahoe, Telluride and Crested Butte.
And while the towns of Squamish and Cumberland don't make my top 10 list shown below, make sure you sample their trails too – each region has dozens of excellently designed and maintained bike trails.
Have a look at my Top 100 List for other outstanding trails in BC! Of my Top 100 Trails, I count 30 trails within the Vancouver, Squamish, Whistler corridor – all within a short 90 minute drive!
Top 10 Trails in British Columbia
If you have any thoughts or comments on my trail lists, please comment in my Blog Post section. Thanks!